A. What is PAL?
PAL - the name by itself says everything, it is the best buddy that will follow you anywhere you go. It is the new generation's mobile ambient lighting gadget for any phone device, any time and anywhere. We are aiming to be the phone ambient lighting leader in the world with technologies directly integrated into the phone flashlight.
B. Who will be PAL's customers?
The potential user is everyone with a flashlight in a mobile that it can work immediately whenever you need.
C. How does PAL work?
Let PAL magically convert your location to a pretty ambient with no extra batteries needed; by one simple step:

just slide a PAL gadget over your flashlight on your phone (whatever your phone's model is, it works in all platforms, with or without phone's cover).....and Voila!! PAL brings magic feeling to your eyes straight away.
D. Did you know?
1. PAL was named MAL at the beginning, that's why you will see in the video and somewhere it still mentions MAL, but the purpose of serving has remained the same, a very good supporter travelling with you day & night.
2. PAL is made with 7 chakra colours based on our complete research. Those top colours create the most relaxing vibes for users.
3. PAL can go with you wherever your phone can, even under the shower where your body most relaxed.
4. PAL's surveys have shown that these ambient lights' transformation boost your brain to generate lots of calming flows throughout the neurons and from that your ideas and creativity are formed considerably.
5. PAL under Covid-19 pandemic has strongly confirmed its helpful existence more than ever.  Please have a look on the details below 

E. What has been the real impacts from PAL?
1. This product provides you with peace, love & harmony. 9 out of 10 directly fall in love with PAL and would buy it instantly after seeing its transformation.
2. During the lockdown in my family daily life, where we spent lots of time living slowly bonding together, PAL has helped us enjoyed so many meaningful moments just at our own home such as:
- Sleeping: I have 2 babies, one was born in 2019 & the other was born in 2020, as you may know, making them both sleep at nights is sometimes a hell of work!!! Luckily, when I tried to apply PAL function, I put all the phones we have, turn flashlights on, and slide PAL gadgets over with different colours...and IT WORKED!!! My babies are both quiet, slowly closing their eyes and fall asleep. I have been so much grateful for this technique.
- Meditation: during the lockdown time, my wife and I spent lots of time meditation to make our inner souls feel calmer, understand ourselves and the current situation happening across the world more, we do chakra meditation every night after the babies sleep. It helps so much with the ambient vibes that PAL provides us, for eg. Monday with Root chakra under red, Thursday with Heart chakra under green or Friday with Throat chakra under blue...The lights surrounded helps a lot for visulising the flowers inside of our bodies and our meditation has become much more quality for our body, soul & mind union.
- Chill out: staying at home regulation has created certain pressures for parents to keep the children entertained indoors mostly, and in my case I play a little role like an magician, let my toddler select everyday different colour of PAL in his room, then I made it on, turn on some music and he was like: "wowwww", dancing and having fun for a while, the newborn baby was also happy to watch around with excited eyes. As a father, I am so happy with this small little trick.
- Creativity: one of my favorite hobbies is meditation under the cold shower, somehow the light in our bathroom is just too much brighter for a small areas, so what I do is I always keep the light off, I bring my mobile, make PAL on...and thank God, the whole vibe turns just so nice and gentle, I can shower for hours under this ambient as my mind has never been more relaxed and ideas flow was just coming all out efficiently under the water and PAL's atmosphere. I could not believe with small, cheap gadget can bring about so much funs and quality in life. 
And so on..., I hope to receive many feedbacks and stories from everyone in the future how PAL has assisted your life turn better. That would be the most rewarding gift to me and PAL team and the whole purpose of this project.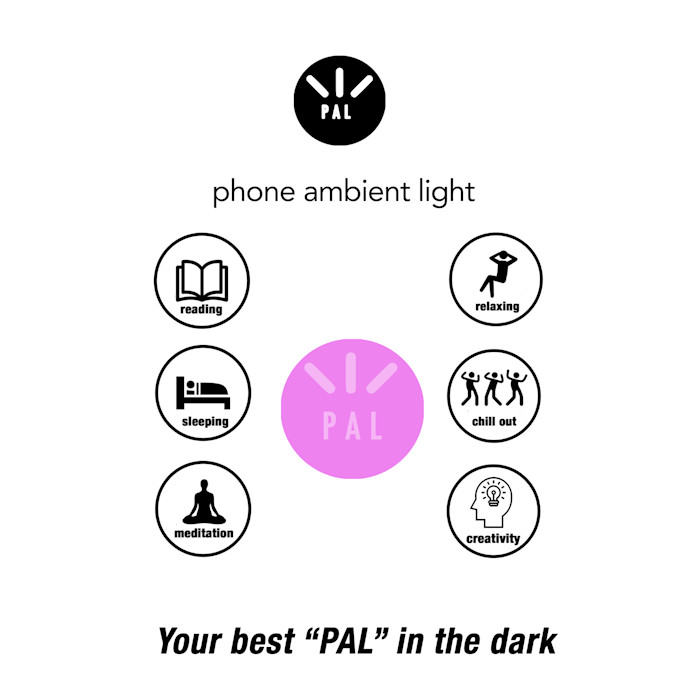 F. Background Overview
*The first part of my life - called Early Success:
Growing up in Germany with my family, I was fortunate enough when I reached my early 20s, I was successfully brought a household product into many big chains of supermarkets and helped many households to provide good care for their plants in the houses. The utmost satisfaction at that time was when I saw all my products being displayed on the shelves in stores and people bought them, the cashiers scanned their barcodes...And that was when I realized how much I love Product Development so much, not just any products, but those that must bring impact and helpfulness.
*The next part of my life - called Not Giving Up:
 After the early success, together with many events in life, I decided to move to the UK to start a new life in my late 20s. I have lived over 10 Years in the UK now, striving with lots of things and meanwhile building of my passion with the Product Development. With over 15 years of investing time and effort in what I love, it has provided my with huge experiences over many things with a Start-Up: from the Idea to the Prototype, from the industrialization to the Mass production and the market placement. 
With PAL project, I have followed and researched in a long way and already applied on myself. It has helped me a lot in many ways as I am a frequent light - user on many occassions: sleeping, reading, showering, meditating, playing with my children...The normal flashlight on our phone is just too much, if you agree with me, and with a small shift, a small gadget becomes the real game changer. PAL has taught me about patience, love and harmony to myself and my family, and under no circumstances, I will NOT GIVE UP my dream and passion somewhere in life. We have made it through the pandemic with love till now and we would live to spread it to anyone in need of it.
*The coming part of my life - called You Made It:
Of course, any Start-Up's journey is not easy, it has been going with many different experiements in the lab, to make sure about the quality of the product, and its versatile in any platforms. And it worths every single effort as I always believe that good things take times, and hard work pays off one day.
Finally I could fulfill my passion with something that I love by myself, and hopefully I can be able to return an added value to the society, rather than just taking, taking, and taking. 
We are ready to give up the big stake of our margin in order to make our dream come true. And definitely you are as single investors, will help this path become possible. We appreciate any of small support to complete the name You Made It in this chapter.

G. Risks & Challenges
Any business always has its risk & challenges, and we are not exceptional. However, as founder and inventors of PAL, we have done a thorough risk analysis to understand our proposition in the market and our core competencies and well planned for it.
- We know that our technology is ahead of everyone else and this is just the beginning.
- We welcome every similar product on the market as proof that our concept is brilliant.
- We are working hard to provide high-end edge technologies to our customers and cannot wait to establish the trust of keeping our promise, by constantly improving and being up to date with the market demand.
Please rest assured that we have worked deeply to mitigate the risk at best and the result will make a noise for our beloved users.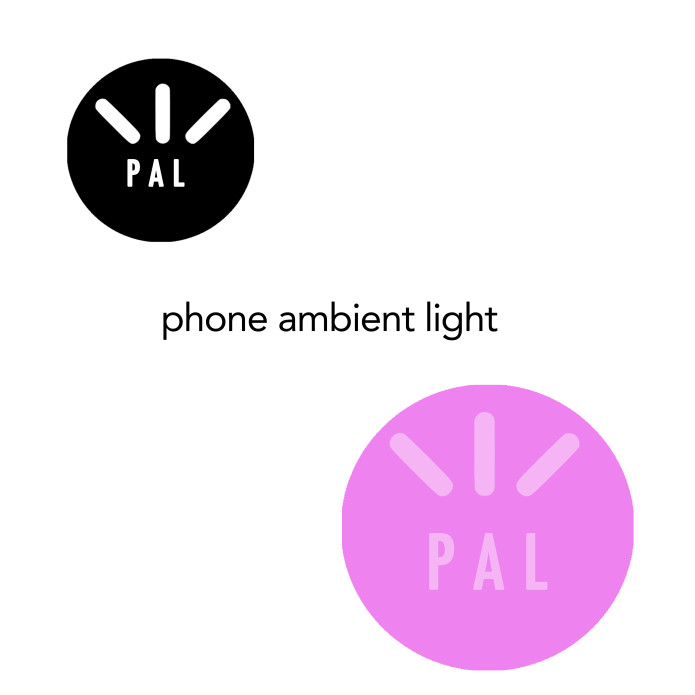 H. What We Need & What You Get
Folks let's get on an enlightened journey together, you can follow and see by yourself how PAL transform a boring room to a  one with your selected colours without flashing directly in your eyes and disturbing the great atmosphere alone, with friends, family in style.
Your Mobile & PAL is all you need, Mobile Ambient Light helps you to spend more quality time in any room. 
This Game Changer product starts with its first version, and will move to the next level wherever the universe respond to our efforts through our customers' support. Our plan of deployment in the forthcoming future:
Preparing the Product for industrial mass production & markets.
Mainstream Marketing with up to 10 million Impressions and engagements.
Product research & development into integrated versions of the mobile device.
Be the global leader in mobile lighting technology 
To break it down for you in more detail on how we are going to make it together with you:
To scale the first version we need to secure production and be ready to deliver within the estimated time frame.
We cannot wait to make this product available for the mass. Everyone will enjoy in their own way, satisfaction guaranteed.
To value you and your trust we will keep you updated frequently with our newsletter via email and you will also receive the PAL product before everyone else does.
On top of that with a trust discount of 70% to the RRP of 12£.
Everything will be reinvested to develop PAL to the next level.
Do not miss out on the chance to participate in the game-changing movement. 
Looking for more information? Check the project FAQ